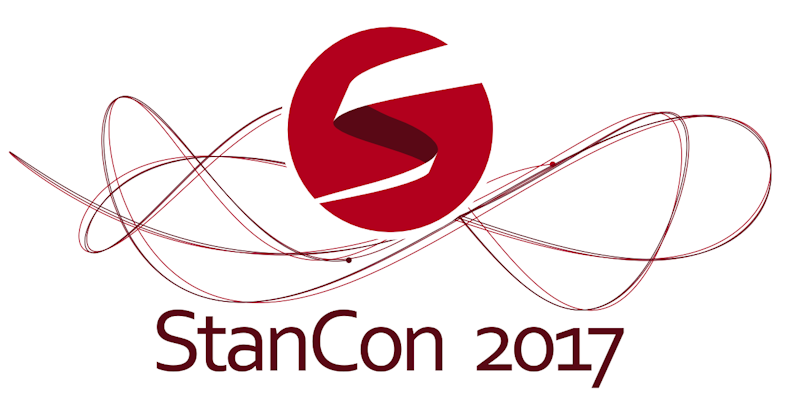 Here is
the program
:
9:00 AM - 10:00 AM
Dev talk Andrew Gelman:
"10 Things I Hate About Stan"

10:00 AM - 10:30 AM
Coffee

10:30 AM - 12:00 PM
Contributed talks 1. Jonathan Auerbach, Rob Trangucci:
"Twelve Cities: Does lowering speed limits save pedestrian lives?"
2. Milad Kharratzadeh:
"Hierarchical Bayesian Modeling of the English Premier League"
3. Victor Lei, Nathan Sanders, Abigail Dawson:
"Advertising Attribution Modeling in the Movie Industry"
4. Woo-Young Ahn, Nate Haines, Lei Zhang:
"hBayesDM: Hierarchical Bayesian modeling of decision-making tasks"
5. Charles Margossian, Bill Gillespie:
"Differential Equation Based Models in Stan"

12:00 PM - 1:15 PM
Lunch

1:15 PM - 2:15 PM
Dev talk Michael Betancourt:
"Everything You Should Have Learned About Markov Chain Monte Carlo"

2:15 PM - 2:30 PM
Stretch break

2:30 PM - 3:45 PM
Contributed talks
1. Teddy Groves:
"How to Test IRT Models Using Simulated Data"
2. Bruno Nicenboim, Shravan Vasishth:
"Models of Retrieval in Sentence Comprehension"
3. Rob Trangucci:
"Hierarchical Gaussian Processes in Stan"
4. Nathan Sanders, Victor Lei:
"Modeling the Rate of Public Mass Shootings with Gaussian Processes"

3:45 PM - 4:45 PM
Mingling and coffee

4:45 PM - 5:40 PM
Q&A Panel


5:40 PM - 6:00 PM
Closing remarks Bob Carpenter:
"Where is Stan Going Next?"

Join the CompressiveSensing subreddit or the Google+ Community or the Facebook page and post there !
Liked this entry ? subscribe to Nuit Blanche's feed, there's more where that came from. You can also subscribe to Nuit Blanche by Email, explore the Big Picture in Compressive Sensing or the Matrix Factorization Jungle and join the conversations on compressive sensing, advanced matrix factorization and calibration issues on Linkedin.